AutoDeal New Car Comparison
Not decided on a new vehicle yet? You can compare up to three new cars at a time using our dynamic car comparison tool. Don't worry, we'll convert the data into results that speak your language.
---
Featured Comparison
In terms of power and loads of features, which pickup truck will come out on top?
View Comparison
With a competitive price point, which subcompact sedan is worthy of your bucks?
View Comparison
These subcompact crossovers embrace sophistication, but who will tick the boxes of your personal preferences?
View Comparison
Premium Car Comparison
The battle of German carmakers: Which premium midsize SUV would you go for?
View Comparison
Which between these two legends is worthy of your millions?
View Comparison
Check out these aesthetically-pleasing premium crossovers in the market today. Take your pick!
View Comparison
Popular Comparison
There's no doubt that these SUVs are popular in its segment. Check out this battle and know which one will give you the best...
View Comparison
Subcompact sedans are the ideal choice for small family. Check out this specs battle to know which one fits your budget and...
View Comparison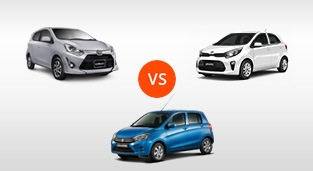 Hatchback's small size comes with impressive fuel-efficiency, making it a great buddy for daily drives. Pick your favorite.
View Comparison
Latest Comparison
Chinese vs. British: Which between these compact crossovers is better than the other?
View Comparison
Battle of the Pickup Trucks: Which among these three comes with the most powerful engine and gets the best features? Find...
View Comparison
Style, reliability, and functionality in one body - which MPV would you go for?
View Comparison